Global stocks fell the most in more than a year because big losses in Netflix shares sparked a sell-off in tech stocks that spread to other industries. Big global stock markets crash caused big losses.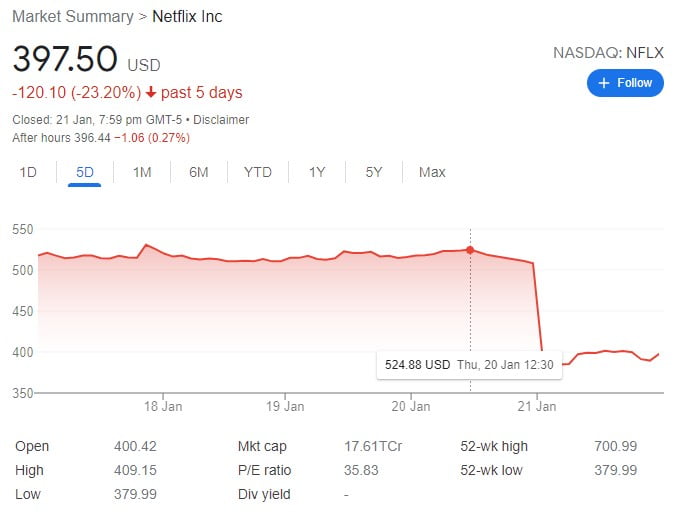 Investors have rushed out of speculative parts of the market because the Federal Reserve is trying to make it more difficult for businesses to borrow money.
Effect of Global Stock Markets Crash
Tech-heavy Nasdaq Composite fell 7.6% this week, its biggest drop since the coronavirus pandemic hit US markets in March 2020.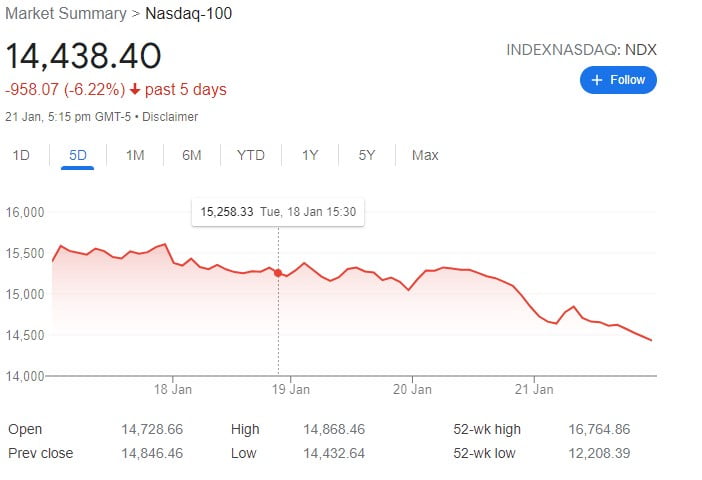 It was a bad week for the blue-chip S&P 500 index, which is used as a gauge of the $50 trillion US stock market, because it lost 5.7%. More than two-thirds of the companies in the index are now in a technical correction, which means they're down at least 10% from their record high. There are 149 stocks that have dropped 20% or more.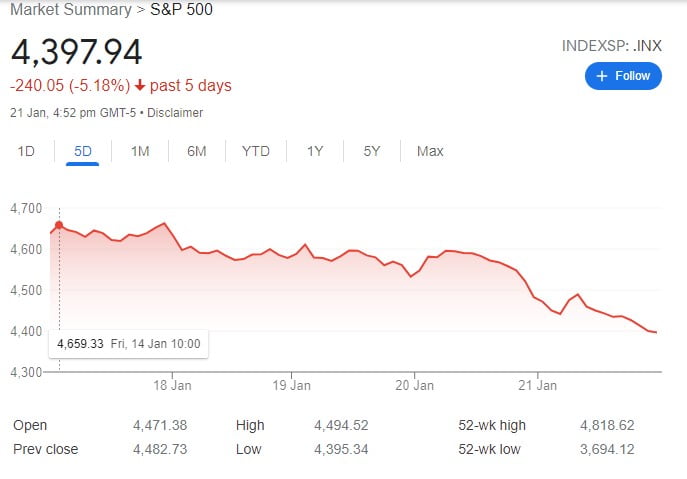 In the last week, the FTSE All-World index of stocks from both developed and developing countries has gone down 4.2%. This is the steepest weekly drop since October 2020.
Netflix was one of the worst-hit stocks in the US on Friday. The streaming company said that subscriber growth would be much slower than it had been. The value of the company fell by about $49 billion, or about the value of Kraft Heinz, a food company.
During a time when investors thought we had hit a bottom, Netflix's report did the opposite and made the market nervous that things wouldn't pick up from a demand point of view.
Fear In Investors
Many investors bought derivatives to protect themselves from more losses in the stock market. If a stock or an index goes down in value, you can make money with equity put options, which can pay out if that happens. This is the first time in history that this happened all at once, in one day.
Investors bought a lot of puts on State Street's $420bn SPDR S&P 500 ETF, which is called SPY. Most of the ETF's 6 million put contracts were bought on Friday, even though more than 1 million of them were due to expire this morning.
On Friday, a lot of people started selling stocks that were very valuable and growing quickly, like Netflix.
There are a lot of people who think the Fed will raise interest rates four times this year and stop other stimulus programmes that had been good for the stock market since the pandemic.
Market's Mood In Global Stock Markets Crash
There has been a big shift in the stock market away from tech stocks and into shares of businesses that are based on how the economy recovers from the coronavirus.
Even though Treasury prices rose on Friday, extending a rally that started the day before, the so-called 10-year real yield kept going up. It briefly hit 0.54 percent, its highest level since February 2020.
Other assets that were popular have had a bumpy start to the year because real yields have gone up from minus 1.1% at the end of 2021 to 1.2% now. As of November 2021, Bitcoin was at an all-time high. In 2022, it has lost 17% of its value, while an index of unprofitable tech stocks compiled by Goldman Sachs has lost more than a fifth of its value.
This is the third week in a row that STOXX Europe 600 equity index has lost money. The index dropped 1.4% for the week, which was its third straight loss.
Also Read

The 30 Key Points From The Market Wizards